UPDATE ON LANDGRAB IN MN AND NEARBY STATES
CARBON CAPTURE PIPELINES

Revisiting an earlier issue exposed by Tom DeWeese:
American Policy Center | Net Zero and the Carbon Capture Pipeline: Renaming things to condemn them.
 In the North Central US,  the plan includes ; MN, IO,NE, SD,ND. See Map here :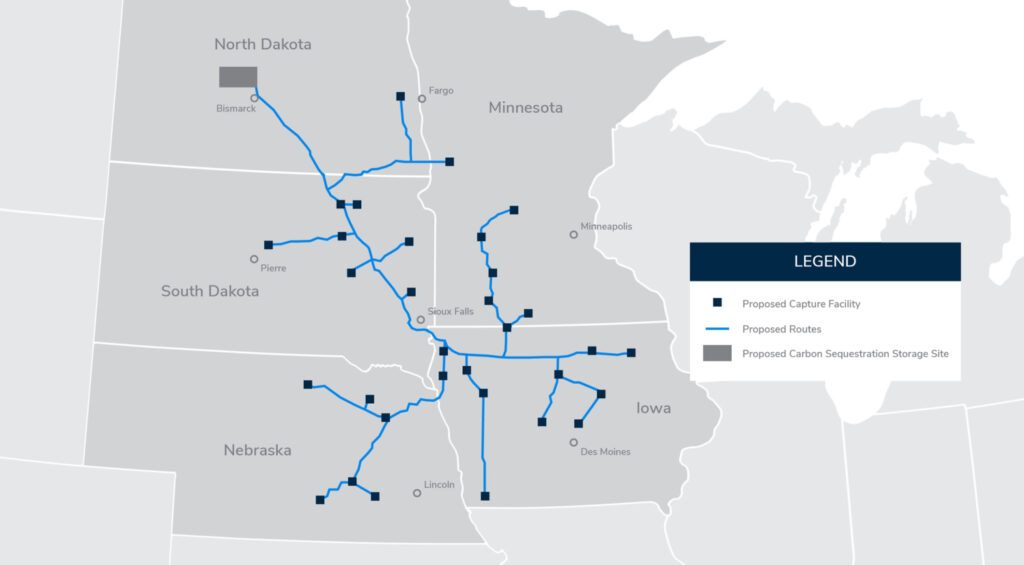 Recent info from SD tells us that about 80 land Owners are faced with EMINENT DOMAIN. This fraudulent system, similar to its counterparts, Large Solar and Wind Projects, Ethanol, Nature Energy, and Trails, will only serve to replace private farmland with Government/Globalist ownership and Controlled Food Supply. Here is a reminder on NATURE ENERGY in case you forgot :
Has NATURE ENERGY come to YOUR Community ?? – SAVE YOUR CITIES
Further info from South Dakota tells us that this phony pipeline will be fed directly from Ethanol Plants. As fraudulent as THAT program is, it is likely that this was the ultimate plan all along, not clean up the air or help farmers profits. Remember, that industry, ETHANOL, is still heavily subsidized by the Taxpayers. AND ITS CRAPPY FUEL ALSO !

If you follow the map (Middle Link above) closely, you will see that they Bypass Indian Reservations. Thats good news ! That means they know the Native Groups will take them to court which bodes well for OUR PLANS. WHY ?? Because when we set up our Constitutional Townships, the Government will also be reluctant to challenge OUR sovereignty as well. The Supreme Court will be very reluctant to overturn or challenge its own 1992 Ruling on Common Law Grand Juries, NOR the 1803 INTERNATIONAL LOUISIANA PURCHASE.

REVISIT OUR COMMON LAW AND CONSTITUTIONAL TOWNSHIP PLANS HERE, AND TAKE BACK YOUR COMMUNITIES AND SCHOOLS:
CONSTITUTIONAL TOWNSHIPS AND HOW TO CREATE THEM – SAVE YOUR CITIES